Same sex pair bonding is widespread,
throughout the natural world
. Zoos are not exactly the natural world. The animals live in unnaturally confined conditions, and are often maintained there for the specific purpose of boosting numbers, in formal breeding programs. Unless you have an objection in principle to the mere existence of zoos (I'm neutral on that one), it's difficult to get seriously dogmatic about the story Guido and Detlef, the male vultures of Munster zoo – but it does raise some questions:
The drama began in March when Guido and Detlef set up home together at the Allwetterzoo, in the British Army garrison town of Munster, northwest Germany.

The griffon vultures, Gyps fulvus, showed no interest in female company. They were happy in their own world, grooming one another with tender sweeps of their savage beaks between rearranging the sticks that made up their nest, although the other vultures kept stealing materials as if to spite their arrangement.

Dirk Wewers, the zoo's curator, said: "They always sat so closely together. They defended their nest from the other vultures. A suitable female was missing and in such a case vultures look for companionship from the next best thing, even if it is a male. Detlef looked for a bird of the opposite sex but settled with Guido."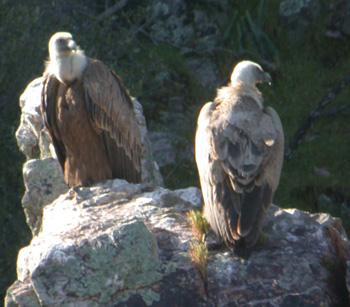 As a professional zookeeper, Herr Wewers really should know better. It is perfectly true that in some cases, animals deprived of access to opposite sex partners my make do with their own sex a substitute, but this is not a "cause" of animal same sex behaviour in general. Animals frequently choose same sex partners in the wild, either exclusively, or alongside opposite sex dalliances as well. In some species, same sex coupling is in fact the norm, interrupted only by a handful of individuals at specific times, for the sole purpose of making babies. In Detlef's case, the problem was not an absence of females – it was a communal, mixed sex birdcage. The simple fact is that Guido declined the virtues of opposite sex attraction, and chose to settle down instead with Guido.
Public reaction was also questionable. On the one hand, there is the dubious chortling at the "outrage" of the gay community, who got worked up about the fate of these birds rather than the much more important questions threatening the world?
In a world of cholera outbreaks, terrorism threats, imploding banks and decreasing fortunes and species, certain German gay rights campaigners have found the time to express solidarity and sympathy for the birds' plight.
Here, I have to ask the Telegraph: If the only issues worth paying any attention to are the big global issues, why are you paying any attention at all to the concerns of a few gay activists? We all have a range of concerns, from the global to the local, from the general to the particular. There is no justification at all for ridiculing the expressed concerns of this group. On another day, collectively or separately, they could well turn their attention and outrage to more serious questions (one of which might turn out to be homophobic journalism).
Last month (November), eight months after the pair first made a home together, the zoo decided that they could no longer tolerate this affront to their procreative obsession, and separated them.
Guido was removed last week, however, to be replaced by a flighty female from the Czech Republic who, it is hoped, will tickle Detlef's fancy and eventually produce little vultures…

.. Guido (was) transferred 400 miles (650km) east to a zoo in Ostrava, in the Czech Republic.
But the best-laid plans of mice and men gang oft awry. You can take a male attracted vulture to a female, but you can't force him to do the necessary.
So far, Detlef and the un-named Czech bird have yet to do the wild thing. Guido, transferred 400 miles east to a zoo in Ostrava, Czech Republic, is also reportedly not too enamoured with the heterosexual lifestyle now being forced upon him.

Will it be too late to teach an old vulture new tricks? Both Detlef and Guido are 14 and it is uncertain that the libido of either can live up to the expectations of keepers.
So why on earth was this enforced separation even attempted? If the breeding programme was of such importance to the zoo (griffon vultures are not endangered), why wait eight months before doing something about it.
But some of the gay activists' reaction is also over the top.
"This is like in the dark middle ages, forcibly making a creature sexually re-orient itself by tearing its partner from its side," wrote one angry gay vulture lover.

"While the Roman-catholic church in the arch-conservative area of Muensterland is jubilant, homosexual federations and animal protection organizations from the whole world over are indignant."

Five years ago a public petition saved the gay penguins of Bremerhaven Zoo from being split up.
The sequel to the Bremerhaven penguin saga was not the gay fairytale happy ending. The zoo left the two males together – but they later separated voluntarily, and found female mates.
It is definitely incorrect to assume that animals are naturally "heterosexual" (not even humans are), but it is equally misleading to think of a same sex bonded pair as "gay", or even "homosexual". The truth is that in the animal kingdom, as in human societies and individuals, there is an astonishing a range possibilities for erotic coupling, with no single one normative.
Female/male bonding pairs don't point at the same-sex sweethearts and gossip; they don't chase them from feeding stations; they don't give them a hard time about nesting in the neighborhood. Humans invented the concept of separating individuals according to their sexual preferences. These are just birds doing what birds do without the repressive labels we humans believe are so necessary.
Recommended Books: